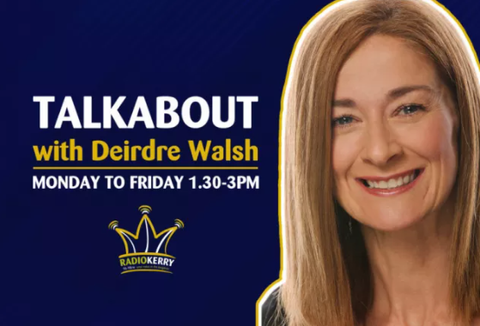 Summer days - Gardening, Barbequing, Painting fences, and Grooming the dog!
As the summer wheels in, its just fantastic to see the gorgeous weather, and hear those birds twittering all day long especially now that we have the glorious long evenings again.  I constantly ask my customers for feedback as I have my own idea how MyHousecoat can be used but thankfully I'm getting a lot of feedback on other uses, so on occasion,  I will share all of these with you!
Having only launched end March/Early April, at The Ideal Home Show and since then I have showcased it at Mallow Home and Garden festival and have had a few online sales - some of the quirky uses are amusing!
The Wrap seems to be ideal for those putting on 'fake tan' - so once sprayed, or once it has been applied, - while waiting for it to dry, - The Wrap is quick and easy to pop on, is lightweight and perfect it seems for this occasion! One can get on with blow drying hair and applying makeup - The Wrap is the chosen product for this for some customers anyway. 
The other one I found amusing was that dog owners seem to love The Coat  while they are giving their dog a bath or grooming their dog at home! I wonder had this inspiration coming to my customers anything to do with Rosie coming along for the weekend show at Mallow Home and Garden festival?  Either way, it seems to be a fantastic way to keep clothes from getting destroyed while dog washing and dog grooming is going on.
I also had a hairdresser who purchased as she says the Sleeveless would be fantastic in her hair salon. She loved the colour, but particularly liked the 2 large front pockets, ideal she said, for holding her comb and / or scissors. 
Fantastic to get feedback like this, so please keep letting me know all the different uses for MyHousecoat. 
At this point, only 2 months in I would like to say I'm really enjoying this journey. I am meeting the most kind, happy, friendly people and the ideas and comments are flowing so Thank you all for that. 
I have also been fortunate enough to get some airtime in the past few weeks, and for that I am also truly grateful. Marty Whelan from Lyric FM gave me a shout out in advance of the Ideal Home show, and as it happens, - purely by fluke, the Lyric fm logo colours are just like mine! Marty had a few ideas for how to wear The Wrap, but I'll share these with you, next time I see you perhaps! Rapid  360 took an amazing video of my stand there, so thank you for that. https://www.facebook.com/rapid360.ie/photos/111253738209291 in case you want to see it again. 
Then in advance of the Mallow Home and Garden Festival last month, I got a fantastic opportunity from Deirdre Walsh and the team at Radio Kerry and chatted with Deirdre on her show 'Talkabout' where I talked about .. yes, you guessed it! MyHousecoat. I will be posting that soon on Instagram so you can listen back to it there. This was a fantastic opportunity for me, as the show obviously has many, many listeners as lots of lovely people came to see my stand having heard the interview with Deirdre. So a big Thank you to Deirdre, and the team at the Talkabout show on Radio Kerry for that fantastic opportunity. (Listen back here : https://www.radiokerry.ie/podcasts/talkabout/house-coats-may-24th-2022-283149?fbclid=IwAR3WV57CJ8dAI0eZLLmGKg6t7IoHy2iUl8wCDP8_LT2_HDc2XM-Gm67TYjQ )
Then at Mallow I had a super video chat with Colum McGrath, Breakfast Radio presenter at Clare FM radio - so Thank you also to Colum for that Opportunity. You can catch this again here : https://www.instagram.com/tv/CePC1TavjeR/?utm_source=ig_web_copy_link   
I also got a super write up in the Gorey Guardian, (29th June) - see here :
https://www.independent.ie/regionals/wexford/news/new-housecoat-designs-from-tinahely-entrepreneur-aisling-have-busy-parents-covered-41797706.html
and Declan Meehan then also gave me an opportunity to speak about my range on his show on 1st July listen back here : https://www.eastcoast.fm/podcasts2/podcasts/the-morning-show/episode/my-house-coat/?fbclid=IwAR3OrR1U_OSPiSBCJN4dFY2BE-x_8FSMTSRiygjR49rh1ey4pCswB4oMi-Q   
It's really fantastic to be meeting so many wonderful people as I travel along this journey, and I hope you join in along also. 
Then more news! Following some customer feedback, I have now launched some new products - The Crossover apron, (Long length, but sleeveless, hook on back and pockets as with the other styles, - wrap across and tie), The Tunic (waist length, short sleeves, wrap tie, and smaller pockets - ideal for beauty/ healthcare) , The bag, and the Draught excluder! - I intend launching another style later this summer, so watch out for this! 
Then while watching the launch of Dancing with the Stars on RTE on Sunday 8th January 2023, I couldn't believe my eyes, when the 2 presenters - Jennifer and Doireann, were shown on screen at the start of the show wearing something like a shop coat - the old brown one... - while doing their final prep and check list for the show as it is just about to start! - then within seconds, we see them whip them off, and under this 'coat' they have their dancing glitter outfits on, and off they go directly onto stage and perform, for the shows opening dance scene! I was stunned!! This is exactly what MyHousecoat is designed for! and whats more, 'The Wrap' has been used by so many for this exact purpose, i.e. after showering, and tanning, - they get dressed then pop the 'Wrap' on, - and get on with drying hair, putting on makeup - and then simply 'Whip' it off, before heading out for the night or for that special event / wedding.. - so there you go! Perfect solution already here, - not the old brown coat, - the new design from MyHousecoat! Perfect for keeping your clothes clean while you get on with those makeup, hair and tan tasks. 
So there are lots of ways to use MyHousecoat and lots of new & unique styles to choose from.  I will keep you posted on new ideas and meantime, have a super summer , enjoy the long evenings, and if you have one.. Enjoy MyHousecoat. 
Aisling